Printer-friendly version
State by State: Out of the Book, Volume 3, a film tour of the U.S. with some of the country's finest and funniest authors as guides, had its premiere last week in New York City. The newest volume in Powell's Books' Out of the Book film series is based on the book State by State: A Panoramic Portrait of America, edited by Matt Weiland and Sean Wilsey (Ecco/HarperCollins Publishers), and includes footage of 19 of the book's contributors, including Alison Bechdel, Anthony Bourdain, Susan Choi, and Joshua Ferris. More than 60 independent bookstores across the country, from Books & Books in Coral Gables, Florida, to Village Books in Bellingham, Washington, are scheduled to screen the film.
State by State's SRO premiere on Thursday, September 18, in New York City, was co-hosted by McNally Jackson Booksellers, the New York Institute for the Humanities at NYU, and Ecco/HarperCollins Publishers. The West Coast premiere, hosted by Powell's, took place at Portland's Baghdad Theater on Monday, September 22, and drew an audience of 175.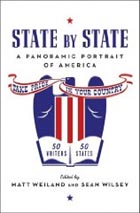 Powell's chose State by State: A Panoramic Portrait of America as the basis for its newest film because it's both "relevant to booksellers and readers anywhere in the country" and because it offers "any number of ways for booksellers to work with local experts," said Dave Weich, Powell's director of marketing and development and producer of the film. "What makes the project so lively is all its different voices."
The film includes footage of contributors confabbing at a summer barbeque in New York City and reading excerpts of their book entries. Editors Weiland and Wilsey introduce the film with an explanation that the book, in part, was aimed at talking about the country in terms other than the tiresome red- and blue-state divide. Alison Bechdel mentions moving to Vermont for love (right state, wrong person). Anthony Bourdain deconstructs New Jersey's inferiority as both a "state that smells" and one that is so close to, but still not New York. And Rick Moody's feelings about Connecticut don't seem to have changed much since the Ice Storm.
Lawrence Weschler with
State by State
editors Sean Wilsey and Matt Weiland.
The New York premiere included a panel discussion featuring Weiland and Wilsey, Lawrence Weschler, Charles Bock, Joshua Ferris, Myla Goldberg, Rick Moody, and Ellery Washington. Wilsey talked about how the book grew out of an interest in proving that the country is "still remarkably varied." And panel members extemporized on their state connections -- Goldberg praised Maryland's blue crabs ("the best in the world"), Bock, who grew up in Vegas talked about neon as spectacle, and Moody said he was less interested in "museums, pasty, or folk dances" as he was in belonging to the "nation state of literature" and finding pockets of hardcore readers throughout the country.
As with previous Powell's Out of the Book films, many booksellers will be hosting events based around a screening. Square Books in Oxford, Mississippi, will show it during the week of the first presidential debate. "During the election season there's a lot of political discussion, but there's also a lot of patriotism and interest in the country," said manager Lyn Roberts. "State by State is about America without being directly political." The bookstore will host an informal reception, and Roberts expects the film will generate conversation among the attendees.
On September 30, RiverRun in Portsmouth, New Hampshire, will show the film on a movie screen at its local library, and contributor Alison Bechdel will join in a discussion/talk at the event.
Booksellers interested in hosting State by State screenings should contact Powell's for a free DVD for the event. Stores that screen the film between September 2 and December 31 are eligible for $50 exempt co-op from the book's publisher.
Powell's is also selling the DVD at its wholesale price (under $4) to booksellers interested in stocking it. Weich noted that Powell's has seen a considerable increase in a book's sales when the title was paired with a discounted DVD. The first film in the Out of the Book series focused on Ian McEwan and his Booker Prize-nominated novel, On Chesil Beach; the second, The Coldest Winter: David Halberstam, documents Halberstam's life and last work, The Coldest Winter: America and the Korean War (Hyperion).
Booksellers who would like to order DVDs, or have any questions about the Out of the Book series, are encouraged to contact April Placencia in Powell's event support program at april@powells.com or (503) 228-4651, ext. 5863. --Karen Schechner
---