Printer-friendly version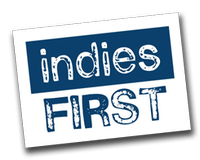 With just a few days to go until Indies First on Small Business Saturday, November 25, here are some last-minute reminders and tips on how to make the most of the celebration:
Put the finishing touches on Indies First and Small Business Saturday events. Check out the sortable list of authors and illustrators who have volunteered their time to visit stores, sign books, or both for Indies First. In invitations to authors and illustrators, remind them — and any other guests you'll be working with — to link to your store on their websites year-round.
Get on the Indies First publicity map, which features hundreds of stores — with room for more! Booksellers should submit their event plans through the Indies First Activity Registry by 5:00 p.m. EST on Wednesday, November 22, to ensure their information appears on the map. Booksellers can view or edit previously submitted details here.
Encourage customers to participate in the #shopindiesfirstsweepstakes. Through November 26, Twitter and Instagram users who tag a U.S. independent bookstore and use the hashtag #shopindiesfirstsweepstakes will be entered to win $1,000 worth of books from Penguin Random House. Five winners will be selected in a random drawing in December, and the bookstores named in the winning posts will also receive $1,000 worth of books to be donated to a local nonprofit. See the complete sweepstakes rules here.
Encourage visiting authors and illustrators to promote collaborations on social media ahead of time with the hashtag #IndiesFirst.
Follow ABA on Facebook, Twitter, and Instagram as well as IndieBound on Facebook and Twitter for up-to-the-minute news about the event, and share Indies First updates with customers using the hashtags #IndiesFirst and #shopindiesfirstsweepstakes.
Check out and share Indies First Spokesperson Jason Reynolds' #localstacks elevator pitches he's been tweeting as he visits indie bookstores around the country.
Promote Indies First and Small Business Saturday celebrations with in-store and online signage. There are new image files for posters, logos, and web and newsletter banners available in both the Small Business Saturday and Indies First sections of BookWeb's DIY Designs & Downloads.
Visit AmEx's Shop Small Studio for customizable downloadable marketing materials for social networks, websites, and storefronts, as well as free, downloadable signage for stores and websites and free online ads.
Get listed on the American Express Shop Small map, a searchable map that helps customers find small businesses in their city or town. American Express Card-accepting merchants can sign in to their AmEx account to learn more about how to get listed.
Snap photos throughout the day and post on social media or share with ABA by e-mailing indiesfirst@bookweb.org. Authors should be asked to sign this downloadable release form, giving permission for photos to be used by ABA for marketing and publicity purposes; stores planning to use the photos for their own marketing and publicity should include their names on the form.
Take advantage of special offers from publishers supporting Indies First. Booksellers can visit the ABA Book Buyer's Handbook to see the special offers and associated promotional codes (a username and password are required to log in; e-mail info@bookweb.org for login details). In light of these generous offers, booksellers should explore ABA's new Backlist Buying Calculator, a self-calculating Excel sheet designed to calculate and analyze a store's backlist buying savings.

Check out the exclusive content created by publishers especially for Indies First. Live links are now available (a username and password are required to access the list of content) for downloadable items from Holiday House and Restless Books.
Questions about Indies First should be directed to indiesfirst@bookweb.org.