Prime Numbers: Amazon and American Communities [1], a new report from the American Booksellers Association (ABA) and Civic Economics reveals the continuing — and increasing — loss of jobs and essential state and municipal revenue as a result of the growing retail dominance of Amazon.com. Civic Economics estimates that Amazon's total retail sales in the U.S. in 2016 exceeded $130 billion and represent 44,000 empty storefronts and 637,000 displaced retail workers, only minimally offset by Amazon's employment in distribution facilities. The report additionally estimates that 2016 sales facilitated by Amazon's third-party Marketplace account for as much as $5 billion in uncollected state and local sales taxes, resulting in shortfalls that leave states, cities, and towns scrambling to fund schools, first responders, infrastructure, and other services.
Booksellers can take action to urge their legislators to require Amazon — and other third-party marketplaces — to collect and remit sales tax on third-party sales using template letters found in the Advocacy Action Kit [2].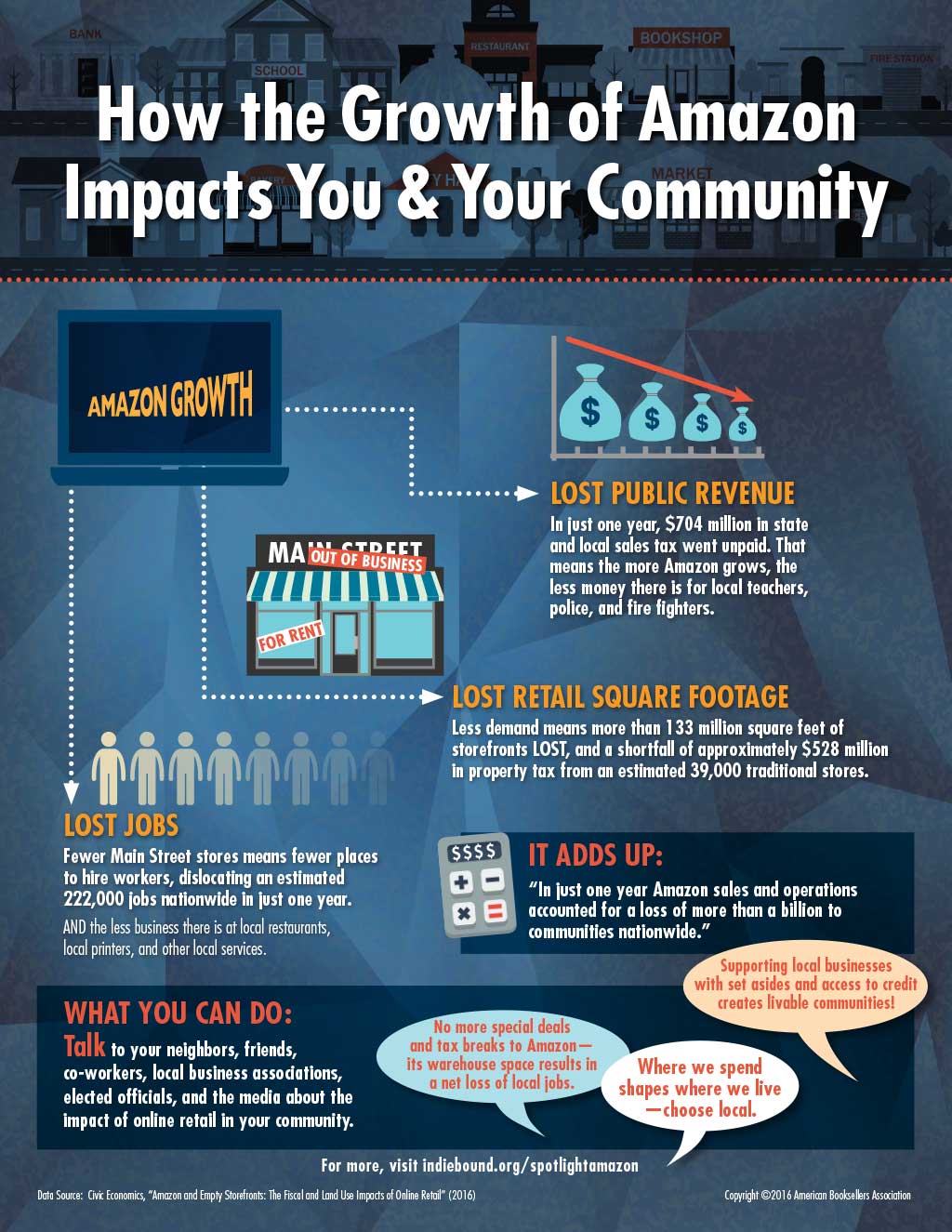 [3]
A selection of readings and resources.
Amazon's Business Practices
As Amazon Preps Chicago Store, Indie Bookstores Push Back (Chicagoist [4], January 2017)
Amazon and Empty Storefronts: The Fiscal and Land Use Impacts of Online Retail ((Civic Economics, 2016) [5]
Amazon Convenience Could Have Fiscal Consequences (Chicago Tribune, 2016) [6]
Five Things Local Officials Need to Know About Amazon ( [7]Stacy Mitchell, [8]Institute for Local Self-Reliance, 2015) [7]
Amazon and the Book Industry
Bookstores, The Amazon Resistance (New York Daily News, July 2017 [9])
ABA President Submits Testimony to Senate Antitrust Hearing (Bookselling This Week, March 2016 [10])
As Competition Wanes, Amazon Cuts Back Discounts (New York Times, 2013) [11]
Amazon as an Employer — Working Conditions
Inside Amazon's Warehouse (Allentown Morning Call, 2015) [12]
Infographics
The Growth of Amazon and the Impact on Communities (ABA, 2016 [13])
Before You Click on Amazon... (Institute for Local Self-Reliance, 2015 [14])